A wonderful mix of beauty and practicality is captivating for both the eye and the heart. Every meticulously sculpted and delicate curve is combined to produce magnificent creations by Indian artists. Handmade ceramics not only show artists' talent and commitment but also bring life to empty spaces. From handmade ceramic mugs to planters, they can add elegance to any space.
Handmade ceramic is used to transform ordinary moments into special ones. Furthermore, it also enriches our lives with its eternal appeal and timeless charm. Moreover, handmade ceramics are not only beautifully simple and utilitarian but also show unique designs and meticulous craftsmanship. 
In this blog, we will delve into the fascinating world of handmade ceramics, exploring the techniques, the artists, and the enduring appeal of this timeless craft.
Exploring Handmade Ceramics Pieces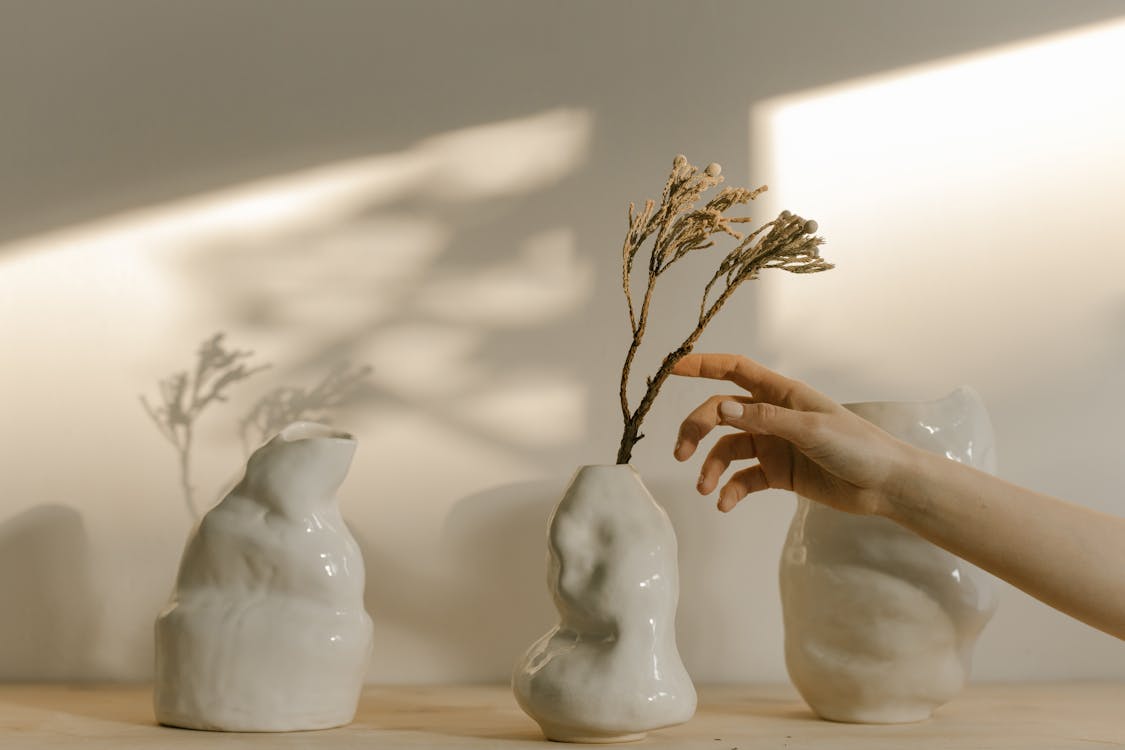 The world of handmade ceramics explores limitless possibilities and astonishing adaptability. Crafters or artists are providing a plethora of wonderful creations with impressive designs. Moreover, it comes in various options, like ceramic coffee mugs, teapots, mugs, vases, planters, etc. 
These handmade products are a reflection of our particular style and a celebration of human creativity. There are multiple sellers who appreciate the work of artisans and individual potters and bring their art pieces to wider audiences. ExpoBazaar is also a B2B e-commerce platform that connects local Indian artisans, manufacturers, and suppliers with international buyers to support small businesses specializing in various lifestyle products.
We offer an amazing range of handcrafted ceramic products like serving  bowls, dinner sets, platters, storage jars, tea coffee mugs, gifting sets, vases, photo frames, etc.
Serve ware
Handcrafted ceramic serveware or dinnerware collections are often characterized by unique designs and the artisanal touch of skilled craftspeople. These collections typically feature a variety of serving dishes such as handmade ceramic plates, platters, bowls, trays, and other tableware items that are individually made by hand.
The Ceramic serveware offers several advantages. Firstly, each piece is unique, showcases the craftsmanship and creativity of the artisan. This uniqueness adds a special charm to your dining table or kitchen. Additionally, handcrafted ceramic pieces often have a more organic and textured feel than mass-produced alternatives.
ExpoBazaar offers an exquisitely handcrafted ceramic serve ware collection for global buyers, boutique stores, online platforms, or even specialized craft fairs and exhibitions. It's a great way to support local craftsmanship and bring unique, beautifully crafted pieces to your dining experience.
Home Decor
Ceramics products are not limited to dinnerware and serve ware items. Artisans extend their creativity into many parts of home decor items. Discover handmade ceramic vase, handmade ceramic planters, and other decor items with enhanced creativity and artists' skill. Each handicraft item tells a story by showing the artists' skill and imagination in shaping and glazing them.
Experience the soft and soothing glow of a handmade ceramic lamps that casts a warm and inviting ambiance in your living space. Also, handmade ceramic vase with exquisite designs will amplify your surroundings while showcasing the artisan's creative vision. Putting handmade ceramic planters on the shelf can add some depth and character to your walls.
The Craftsmanship and Artistry of Handmade Ceramics
Artists need a remarkable level of dedication and skill to create any handmade product. They invest countless hours in developing their artistic vision, mastering their skills and techniques, and developing their artistic vision. So let's go through some points to understand the skills and dedication involved in the creation of handicraft items like ceramic vases handmade and handmade ceramic mug. 
Skills and Techniques 
The creation of handmade ceramics requires a deep understanding of various techniques. Each technique requires regular practice. Artisans must be skilled, have intimate knowledge, and be patient enough to achieve their desired forms.
Experimentation and Innovation
There is always scope for innovation and experimentation, even in handmade ceramics. Skilled artisans like to push their boundaries and explore new and amazing forms, color combinations, techniques, and so on. Artisans constantly seek to evolve their artistic expression and find unique ways to make their handcrafted products such as handmade ceramic coffee mugs, and ceramic lamps handmade stand out. This willingness of artisans to explore and take risks leads to the creation of truly exceptional and captivating pieces of art.
Natural Artistry
Handmade ceramics products such as handmade ceramic bowls and ceramic handmade coffee mugs are made up of natural artistry, which creates a sense of authenticity and attraction. The natural textures, unique patterns, and color variations add depth and character to any piece, which makes it visually enticing and captivating.
Practicality and Care of Handmade Ceramics
Handmade ceramics are known to possess artistic beauty and functionality. However, there are multiple care instructions and considerations that need to be followed to ensure the longevity of these items. These are some issues that address the practicality and care of using handmade ceramics such as handmade ceramic bowl.
Hand washing:
To clean delicate or hand-painted ceramics, it is recommended to use mild dish soap and lukewarm water while washing them. Also, avoid using abrasive cleaners or hard scrubs to prevent any damage and scratches. 
Drying:
After washing or cleaning your ceramic plates, it is recommended to use an air-dry, soft, lint-free cloth to gently dry them. Moreover, after washing, avoid placing it directly on a cold surface with rapid temperature changes.
Handing:
It is always advisable to handle ceramics such as handmade ceramic teapots with care to avoid chipping or breakage. Support the weight evenly to prevent stress in specific areas. 
Storage:
Store ceramics in a secure and stable place to prevent any damage. Use protective padding or a separator to avoid placing them in contact and getting scratched. 
Display:
Avoid placing the ceramics such as ceramic mug handmade in direct sunlight for extended periods to prevent any fading or discoloration. 
Repairing and restoration:
If any piece of ceramic gets damaged, it is advisable to consult a professional ceramic restorer or artisan. They can provide guidance on whether repair is possible or not and the best course of action.
Each handmade ceramics is unique and can have special care requirements. So, always refer to the artisan's instructions and recommendations. Also, by following these care tips, you can prolong its longevity and preserve it for years.
Where to Find and Purchase Handmade Ceramics
If you are thinking of buying handmade ceramics such as handmade ceramic bowl then there are various options that you can explore. Such as local artisan markets, galleries, online platforms, and so on. Online platforms like ExpoBazaar allow you to find unique and high-quality ceramic pieces in the comfort of your home. 
Local Artisan Markets and Craft Fairs:
Artisan markets and craft fairs are some of the most popular places to find handmade ceramics. It allows local artists and craftsmen to showcase their work. Community centers, art schools, cultural organizations, and event management companies are the best places to inquire about upcoming markets or fairs in your area.
Art Galleries: 
Art galleries are great places where established and emerging artists can exhibit and sell handmade ceramics. Also, it allows customers to appreciate the craftsmanship firsthand. Moreover, visiting local galleries allows customers to engage with artists or gallery owners who can provide insights about the pieces.
Studio Visits: 
Many artists own their studios where they can sell their works of art. Just research some local ceramic artists in your area and reach out to inquire about their offers and studio visits.
Online Platforms: 
Now, many online platforms are also giving you a convenient way to get connected with artisans and purchase handmade ceramics online. You can register on a B2B marketplace like ExpoBazaar to get exposure to a vast range of handmade goods, including ceramics. ExpoBazaar features a wide selection of unique handicraft pieces created by independent artists.
The Joy of Incorporating Handmade Ceramics into Daily Life
Handmade ceramics can bring unique joy and satisfaction to everyday activities. It can also enhance your daily experience.
Drinking coffee and tea
You can start your day by drinking coffee and tea served in hand-made ceramic mugs. The amazing experience of holding the uniquely and beautifully crafted piece can enhance the feeling of having beverages.
Dining Experiences 
Handmade ceramics are a great way to transform your dining experience. The handmade ceramic bowls are best for your morning breakfast. Handmade ceramic plates can also be used for your special dinner. The artistry and craftsmanship of these unique items can add elegance to your table settings.
Decorative Touches
Handmade ceramic vases are a great way to enhance the decorative experience of your living space. Displaying a ceramic vase handmade with fresh flowers on a shelf adds a personal and artistic touch to your home. Each handcrafted piece has its own story and adds character to your interior design.
Special Occasions and Gift-Giving
Gifts like handmade ceramic planters are a great option for you and your loved ones. You can go for handmade ceramic lamps, plates, or some amazing ceramic sculpture to add some personal touch and thoughtfulness. It can act as a lovely reminder of you for your loved ones.
The artist's connection
Every artist has a deeper connection with his or her handmade ceramic pieces. Every artist has dedicated his time, expertise, passion, and efforts to creating one piece. Adding it to your home not only enhances its beauty but also adds another layer of affection and love from the artist toward a particular handcrafted piece.
Give a Unique Touch
The unique touch of handmade ceramics cannot be replaced by mass-produced items. Every handcrafted item stands out because of its individuality and originality. Additionally, every piece is made with attention, patience, care, and affection. It results in high-quality, unique, and durable pieces that can be enjoyed for years.
So, incorporating handmade ceramics into your daily life is the best way to appreciate the beauty of craftsmanship. Get engaged with the uniqueness of the pieces, and bring a touch of artistry to them. 
Conclusion
The world of handmade ceramics offers artistic expression, uniqueness, individuality, and functionality to each piece. From handmade ceramic teapots to coffee mugs, bowls to plates, and vases to lamps, it showcases a variety of items that can also enhance any space. The artistry and craftsmanship of each piece reflect the dedication and skill of the artisans behind them. So, incorporate these ceramic pieces and bring joy and satisfaction into your daily life. Additionally, bring a unique aesthetic appeal to your home while supporting independent artists in their journey
Bill Gates once said, "If your business is not on the internet, then your business will be out of business" and we couldn't agree more. There is a wave of new establishments and startups who have taken their business online, ushered by the induction of the internet. The B2C e-commerce in India clocked around $67-84 billion in 2021, according to Fiber2Fashion. A different genre altogether, the B2B e-commerce offers a much larger market and is estimated to reach $60 billion by 2025. There was never a better timer to start an online business, and this guide will help you understand the basics of "B2B Companies in India : essential guide to starting your business."
Choose a business structure

Select a niche product

Build a Brand

Build a Website

Logistics
Selecting a Business Structure for B2B Companies in India
"Rome wasn't built in a day" and so shouldn't a business. Proper research and study should be conducted before starting a venture. Start by penning down what kind of B2B platform you want to build. There are 2 kinds:
Single-vendor marketplace: Involves only 2 entities, the seller who sources the products and the buyers. Although this is easier to manage and keep track of transactions, the catalogue might not include a great variety of products. This marketplace also makes it easier to manage inventory.

Multi-vendor marketplace: Involves multiple sellers. Due to multiple sellers, the catalogue offers a wide range of products and options, but this marketplace might be difficult to manage.
Discover Profitable Niche Products for B2B Companies in India
After you've determined a company model, the following step is to find a niche product. This means that you, as a business entity, should choose a product in which your company specializes. Of course, as your business grows and evolves, you can launch new and varied products based on your company's potential, but in order to give your firm a solid start, you must first identify your hero product or category of products.
For example, ExpoBazaar, a digital B2B platform exhibiting India's hand-curated artisanal and lifestyle products to global markets, is a B2B business model that has chosen home and lifestyle products as its specialty area of products. They will primarily promote selected merchandise that falls within the home and lifestyle category under this area, i.e. products such as home furnishings, furniture, eco-friendly handcrafted products, home décor, and more.
There's a likelihood that this company may move forward and introduce new products and services from a different category, but for the time being, they've picked their niche category as home and lifestyle, which is more viable for them than introducing all categories at once. The reason for this is that when you choose a hero product category, it becomes easier for you to comprehend, analyze, and assess the success of your business so that by the time you launch your next product, you will have a better grasp of what works and what doesn't.
Build Your Product for B2B eCommerce in India
Now that you know how to start an e-commerce firm, it's time to delve deeper into the subject. Several manufacturers and other businesses can use a digital platform to promote their products or services, which also serves as a means of advertising their company. Why would the platform need to be advertised in this case? Many people who desire to establish an E-commerce firm wonder about this.
However, in order for clients to visit the platform, it must first capture their interest. Another thing to keep in mind is that there are many small-scale platforms out there, so it is critical to capture the attention of everyone who is online. And this may be accomplished using digital marketing tactics because people who utilise an E-commerce platform must also be targeted using digital advertising and marketing approaches. You may utilise the checklist to build your marketing strategy by learning about all the many approaches to encourage consumers to visit your e-commerce platform.
Consider what you want from your e-commerce website and b2b e commerce advantages towards your business. Begin by determining your must-haves. Consider the very minimum of features and functions required to satisfy you and your customers: your minimal viable product (MVP). Only after that, if time and money allow, should you consider any further nice-to-haves.
Consider the following when developing your e-commerce MVP:
-Check that it is in line with your e-commerce objectives.
-Include only the features and functions that you want to employ in the first year after your e-commerce website goes live.
-Make sure it answers the most frequently asked questions from your consumers.
-Be honest with yourself about how much you can accomplish with your current resources. For example, if you want a video content component, be sure you have the internal talents and resources (or the funds to employ an external firm) to develop this video content.
-Before delving into more expensive and sophisticated adaptations, make the most of the capabilities and features provided by your selected e-commerce platform.
Build a website
Building your website for B2B eCommerce in India is the next step to starting an e-commerce business, however, there are a few things that you need to consider while starting with your new e-commerce website. Companies that are just starting out with their first e-commerce website frequently overlook the importance of content and benefits of b2b e commerce. A lot of content is required before you can launch an e-commerce website, ranging from product and company descriptions and photographs to online store look-and-feel, structure, and categories.
As a result, you must be prepared to organize and populate your web store. Consider the products you intend to sell. Determine the organization, key categories, and subcategories. Check that you have an image for each product and that it is of sufficient quality. Perhaps you'll also need to generate some technical materials for your customers to use when installing your products.
Logistics
Any successful business owner or online business experts understands the pivotal role of well-managed logistics. Online business expert of B2B eCommerce in India recognize the critical role of seamless logistics in meeting consumer demands and surpassing the competition. Once a business has a firm grasp on its consumers' expectations, it must develop a strategy for meeting those goals via logistics. This requires a firm grasp of or analysis of the organization's strategic direction.
Proper logistics expertise and management benefits organizations in the following ways:
Logistics fosters a business-friendly atmosphere.

Logistics improves the experience of your customers.

Logistics helps to increase the value of a firm.

Logistics helps you get your products to the right place at the right time.

Logistics helps to reduce costs and improve efficiency.

Lowers operational costs
Conclusion
Undoubtedly, there are numerous other factors that we could not cover in this article, all of which are critical for firms that are just getting started. Nevertheless, that is the nature of business; you learn via trial and error. However, it is always prudent to conduct a study before launching a new business, as an understanding of a subject will only benefit you. So, Discover the advantages of B2B eCommerce in India, and gain valuable online business tipps to succeed in the ever-growing market. B2B eCommerce in India offers increased efficiency, cost saving opportunity, wider market reach, streamlined transactions, and provide several other benefits of benefits of B2B e-commerce.