Consumer trends and shifting ideologies are driving people toward more sustainable and Ecoconscious items. It results in a significant shift in e-commerce business models. Environmental and sustainability consciousness has been a trend in e-commerce for a long time. To successfully handle their consumers' growing need for sustainability, internet retailers have also been debating subjects such as corporate social responsibility and eco-friendly supply chain practices for some time now.
People used to buy almost anything without considering the history behind the product's manufacturing techniques. The materials utilized in its manufacture, the amount of energy consumed, or the treatment of workers involved in the manufacturing processes Today's consumer also recognizes the value of all of the above-mentioned factors and will only purchase products that meet these requirements. As a result, entrepreneur investors and manufacturers have been required to adjust to shifting consumer expectations and preferences.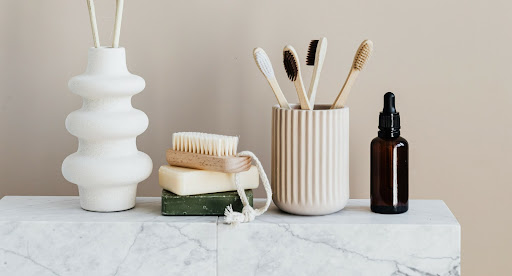 The 'How' of Ecoconscious and E-commerce Products.
Recent trends indicate that many stores have already given their merchandise an ecological makeover. They have entered the green sector by offering furniture and home accessories made of wooden pallets, paper, cardboard, or cork. In terms of environmental stewardship, several internet retailers and Ecoconscious  or eco friendly products wholesale suppliers have already created a sustainable business model.
ExpoBazaar is b2b ecommerce platforms, one of these budding businesses. The digital platform, which is a subsidiary of India Exposition Mart limited, is making continual efforts to promote the concept of sustainability and will officially premiere at the Delhi IHGF Fair in 2022. Offering products made from ecologically sustainable materials such as brass, copper, cane, and bamboo, as well as a variety of other eco-friendly and ecoconscious products. The e-marketplace is encouraging and supporting a sustainable lifestyle in India and other international markets.
Ecoconscious and E-commerce – Make in India Philosophy
ExpoBazaar is driven by the philosophy of 'Make in India' and 'Atmanirbhar Bharat', and calls its merchandise 'India. Curated.' which is also a patented slogan the global platform is using all across the globe. As a global enterprise, they aim to fulfil their social responsibility to contribute to India's growth by empowering its artisans and craftspeople. B2B ecommerce trends allows them to showcase their handcrafted merchandise globally, without any hassle.
Following the Prime Minister's perspective that India believes in growth but is equally devoted to environmental protection. ExpoBazaar is making deliberate and persistent attempts to include sustainability into its trade by promoting ecoconscious and eco-friendly products on its digital platform. The handcrafted wholesale eco friendly products are created by Indian artists using little or no electricity. They are implementing skills and techniques inherited from India's illustrious cultural legacy. Each product is handcrafted using sustainable methods. Whether it is carving with various tools, weaving for hours to obtain elegant designs on a piece of cloth, or sculpting, painting, and moulding various sorts of materials to make elegant keepsakes.
Handcrafted merchandise often is created by artisans at home or by self-help groups who craft artistic artefacts with their own skilful hands. Indian Artistians are using materials that are friends to the nature. By providing our craftspeople with a platform to showcase such sustainable handicrafts on our global wholesale platform. The platform is committed to achieve the goal of sustainable development, in line with the government's already existent initiatives.
The 'Why' of Ecoconscious & E-commerce Products.
Without a doubt, new entrepreneurs can gain significantly from the digital platform because it will offer their business a singular objective while also providing worldwide exposure, both in the domestic and foreign markets. However, this is not the greatest bit.  ExpoBazaar's primary focus has been on their supply chain network, which is essentially the backbone of any business. In layman's terms, supply chain management (SCM) is also a structure that guarantees a robust network between sellers and purchasers, guaranteeing that products arrive safely at the right location and time.
One may ask why the SCM is necessary in an article discussing sustainability and also environmental friendliness. That is the intriguing part of ecommerce sales. ExpoBazaar achieves sustainability by employing the fewest possible intermediaries in the logistics operations. ExpoBazaar intends to be an e-commerce platform with in-house logistical capabilities via its end-to-end supply chain solutions. This enables them to increase the quality and effectiveness of their logistics services and respond more rapidly to unanticipated changes when managed directly.
Additionally, the digital platform refers to its sellers as 'seller partner(s),' implying that all sellers showcasing their merchandise on the digital platform are collaborators in the objective to establish India as a leading sourcing marketplace for markets worldwide, thus bringing a sense of oneness and solidarity among the citizens of India. Thus, it's safe to say that ExpoBazaar is an ecoconscious and eco-friendly marketplace for sellers looking to sell their eco-friendly products on the platform and also an ideal platform for global buyers who are looking to source eco-friendly products for wholesale.
Conclusion
ExpoBazaar, a subsidiary of India Exposition Mart Limited (IEML) is a b2b online platform that showcases India's artistic curated merchandise under the home, hospitality and wellness segment. It focuses on taking this age-old legacy to international markets, while also promoting them in the Indian markets. The e-platform showcases over 15 product categories and plans to add more as the business moves forwards along the course. It is being available for commerce in both India and the North American region.
* This disclaimer informs readers that the views, thoughts, and opinions expressed in the text belong solely to the author, and ExpoBazaar does not represent any individual, company, or organization named on this blog. The article is strictly based on information derived from the Internet and is purely written for creative purposes. In case of removal, edition, omission or any other grievances kindly contact –
Mob – +91-9717294708
Email – promotions@expobazaar.com