Introduction: History and Origin
The origin of the word "Gond" remains uncertain. It is believed that the tribe referred to themselves as Koitur or Koi, which translates to "unclear." However, some scholars suggest that "Gond" may have originated from the Dravidian word "kond," which means "green mountain." Gond Art Painting is a contemporary form of art originating in the Gond tribal community, which is one of the largest aboriginal communities in Central India. The Gond tribe is predominantly found in the Betul, Hoshangabad, Chhindwara, Balaghat, Shahadol, Mandala, Sagar, and Damhoh districts of Madhya Pradesh.
Rooted in the Gond tribes of Madhya Pradesh, a central state of India. Gond Art Painting is a traditional Indian tribal art form practiced by the Gonds. The Gond people have a rich cultural heritage that can also be traced back to prehistoric times. And their art reflects their close relationship with nature, spirituality, and community.

Image Credit – Desiblitz
Characteristics & Identification of Gond Art Painting

Image Credit- Discover Hubpages
Gond paintings are characterized by their intricate use of lines, meticulously drawn on the interior and exterior of the figures depicted. These lines are executed with great care to achieve high precision and evoke an immediate impact on the viewer. The lines also serve to imbue the still images with a sense of movement, which is further accentuated by adding dots and dashes to increase the level of detail.
In addition to the skilled use of lines, Gond paintings are also known for using bright, vibrant colors such as red, blue, yellow, and white. These colors are often derived from natural sources such as charcoal, colored soil, plant sap, leaves, and even cow dung. For example, the color yellow is obtained from Chui mitti, local sand, while brown is sourced from Gheru mitti, another type of sand. Green is typically extracted from leaves, while red is derived from the Hibiscus flower. Overall, Gond paintings are a unique and visually striking form of art that blends skillful line work with bright, natural colors to create vibrant and dynamic imagery.
Gond Art Painting: Creating Wonders with Brushstrokes
It is a breathtakingly tribal art form that captures the essence of India's rich cultural heritage. The mesmerizing colors and intricate patterns in Gond art paintings bring a world of magic and wonder to life.
With every brushstroke, the Gond artist creates a masterpiece that tells a unique story. Each painting is a celebration of life, nature, and the many wonders that surround us. From vibrant hues of red, yellow, and blue to delicate lines and shapes. Moreover, every detail in a Gond art painting is crafted with the utmost care and attention.
This form originated in the Gond tribe and has been passed down through generations. Earlier, the artists used raw materials such as cow dung, charcoal, and plant sap to create the pigments, which were then applied with a simple bamboo stick or brush.
At the heart of Gond art painting lies an exceptional ability to portray the spiritual essence of real life. These captivating artworks frequently depict animals, birds, trees, mythological figures, and deities. Each is imbued with special symbolism and significance. Through skillful use of color and form, Gond artists weave together a rich tapestry of stories and ideas, creating a truly immersive experience for the viewer. This ability to capture the magic of the natural world makes Gond art painting so truly unique and special.
Gond Artist
The hands of a skilled Gond artist wield a form of enchantment capable of transporting the viewer to a realm of wonder and beauty. Whether gracing the walls of a home or gallery. These paintings serve as a powerful testament to the timeless potency of art to inspire, uplift, and connect us all. Through their intricate patterns and vibrant colors. Gond art paintings are also a window into a world of magic and spirit, inviting us to embrace the richness and diversity of human creativity.
Recently, the demand for products inspired by Gond Art Painting has grown significantly. From apparel to kitchen and dining products to wall decor and even product packaging. Consumers are drawn to the unique aesthetic of Indian art.
Many designers and artists have also incorporated Gond art motifs into their creations, and collaborations between traditional Gond artists & contemporary brands. Moreover, It have helped to bring this art form to a broader audience. The demand for Gond art-inspired products is a witness to the enduring appeal of this ancient art form and also its ability to captivate people across different cultures and generations.
Evolution of Gond Art Painting: Bringing Finest Serve ware Collection
As we have discussed several points earlier in this blog about the uniqueness of Gond painting in various forms like paintings, apparels, kitchen & dining products, wall decor, etc. Several artists are now associated with multiple industries and organizations which work on the agenda of the Preservation of Indian Folk Art and Cultural Heritage. These organizations and industries work tirelessly to empower regional communities by bringing their unmatched skills and work to a global audience.
At ExpoBazaar, we are committed to empowering Gond art painters and artists by introducing art skills and their masterpieces on our website.
We have recently launched an exquisite serve ware collection inspired by India's traditional Gond Art Painting. This unique collection features vibrant and intricate designs that reflect the rich cultural heritage of the Gond tribe. Our range includes plates, bowls, mugs (kulhads), and trays. Each piece is designed meticulously by the artisans to tell a beautiful story connecting nature with humans.
Gond Art Kitchenware Collection
This complete range is designed and hand-painted so beautifully that it attracts everyone who loves Indian art. It depicts and connects. Our bold and colorful designs are sure to add a touch of elegance and charm to any dining table. Stock up your stores with beautiful Indian culture-inspired kitchenware collections and impress your buyers!
The collection showcases a beautiful array of natural elements carefully crafted into stunning pieces of art, each with a unique and magical story to tell. From the vibrant colors of the sunsets to the delicate patterns of the leaves. Every piece in the collection reflects the beauty and wonder of nature.
The artisans have diligently infused their designs with natural elements. Additionally, displaying exquisite patterns achieved through the fusion of lines and dots. Every artwork is a masterpiece endowed with its unique narrative. As you delve into the collection, you'll be immersed in a realm of enchantment and awe.
You'll unveil the enigmas of the forest, the mysteries of the sea, and the splendor of the mountains. Each piece pays homage to the might and marvels of nature, commemorating the enchantment that dwells within.
Whether you're looking for a statement piece to adorn your shelves or a distinctive gift selection, this collection has something for everyone. So take a journey through the world of nature, and discover the magic that lies within.
Here is the product gallery that will help you buy gond serve ware collection:
Building the Cornerstone of Tomorrow's Success
With every brushstroke, every color and shape, the artists of Gond Art Painting are creating more than just beautiful works of art – they are building the cornerstone of tomorrow's success. For generations, this vibrant and unique art form has captured the imagination of artists and viewers alike that describes multiple stories through special symbols and
At its core, Gond Art Painting is a celebration of life and the natural world, a joyful expression of the beauty and diversity of our planet. Through its intricate patterns and bold colors, it invites us to explore the boundaries of our imagination and creativity. And to embrace the power of storytelling and myth-making.
But Gond art is more than just a form of creative expression – it is a vital part of India's cultural heritage. A testament to the resilience and creativity of its people. By preserving and promoting this art form, we are building a foundation for a brighter and more vibrant future. One in which creativity and innovation thrive.
Let us embrace the magic and wonder of this incredible art form. Also, allow it to inspire and guide us towards a brighter and more beautiful tomorrow.
Conclusion
The Gond-inspired serveware collection is a beautiful and powerful tribute to the rich legacy of Gond artistry. At ExpoBazaar, we aim to ensure that every home in the world has at least one product crafted by an Indian artisan. Also, the rich cultural heritage of India deserves to be celebrated and appreciated globally.
By bringing these unique and beautiful products into homes around the world. We are not only promoting the incredible diversity and creativity of Indian culture but also empowering local artisans and communities.
So if you are a business looking for authentic handcrafted Indian Artisanal and Lifestyle products, check out our website for amazing collections. Click Here to Explore!
If you want to stock up your stores with this ancient tribal art-inspired collection. You can click here to check out a wide range of serve ware for sale that are shipped worldwide and fit all budgets!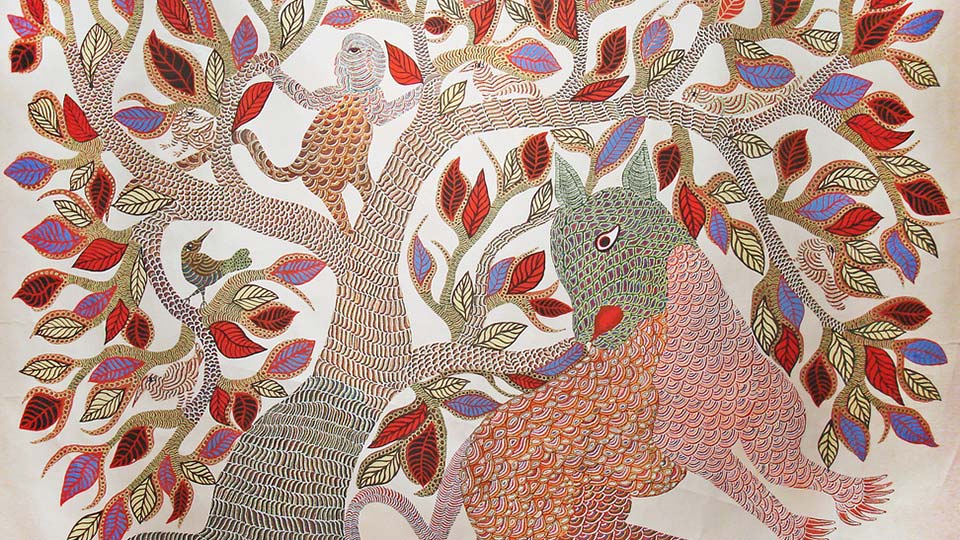 Image Credit – Utsavpedia