Over centuries, skilled craftspeople of India, from generation to generation, have practiced a particular form of art and kept it alive. Below are the famous regional artwork forms that originated in a particular region of our country hundreds of years ago but have gradually leaped forward and made their rightful place in the world of art global and international art market.
Warli: Tribal art, global recognition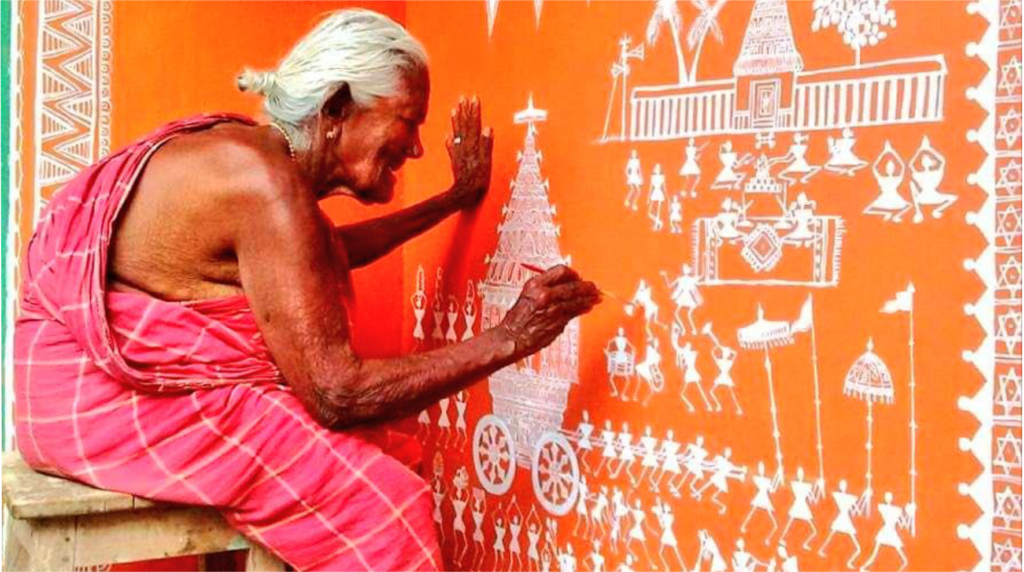 The tribals of Maharashtra create one of the most exquisite folk-art forms, Warli, which originated hundreds of years ago. The regional artwork is still alive and known for its primitive design.
What makes Warli paintings unique is the use of specific geometric patterns that have significant meanings. The paintings use basic designs or variety in art which depict day-to-day life and elements of nature. Generally, the scenes of farming, hunting, dancing, wedding processions, and festive gatherings surround the central motif. The Warli paintings document the circumstantial equilibrium of nature by painting both humans and animals in one frame.
Nowadays, people incorporate Warli not only within the four walls of their homes but also on various home décor and furnishing items, kitchenware, and bath accessories. Moreover, the art room has evolved itself and has gained global recognition due to its unique style. Use of natural colors, monochromatic appearance, and ethnic aesthetic also help in the same.
Madhubani Regional Artwork: From Mud Walls to Fashion Closets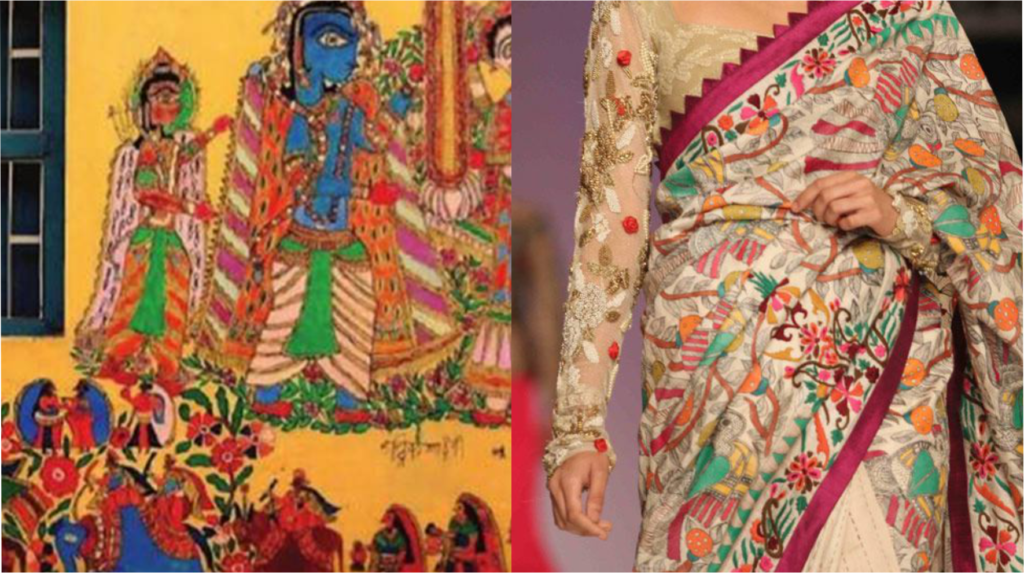 Native to the Mithila region of Bihar, Madhubani originated to express thoughts and emotions on various auspicious occasions like birth and marriage.
Famous artists gracefully present the traditionally rich Mithila paintings on mud walls, canvas, and paper. Furthermore, this 2500-year-old art vibrantly narrates stories and fables not just in India but also in famous museums of the world.
Shrouded in the theme of love and virility, Madhubani paintings have scenes of nature, hunting, plowing, sun, moon. As well as religious deities, Indian Gods artwork, mythological creatures, humans, and animals.
Madhubani is world-famous for its simplicity, art of story-telling, and detailed style. With time, the world of art global has evolved and modernized in technique and themes, color patterns, and possibilities. It can now be seen in home décor, kitchen, and furnishing products and in the world of art global. Additionally, the fashion closets of famous designers have drapes, sarees, kurtas, and skirts adorned in Madhubani paintings.
Art Global- Rosewood Inlay: Manual Dexterity Displayed in Wood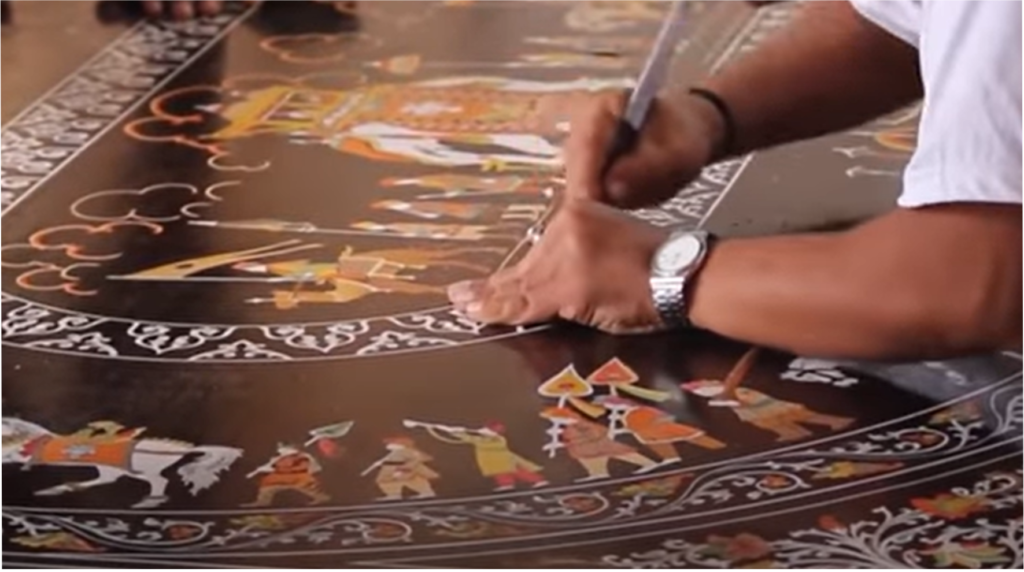 Initially done in the 1900s with ivory and deer horn, Rosewood inlay artwork is a local heritage of Mysore. Moreover, the mesmerizing artwork justly brings life to the pictures of wedding processions, social activities, flora-fauna, etc. The craftwork or Indian Abstract artwork is so beautiful and original that it has earned a Geographical Indication tag from the Government of India. The rising cost of raw materials puts the art form in dire straits, but people's demand for the finished product is ever-increasing.
Today, craftsmen use the Rosewood Inlay technique to make a wide range of products under home décor and lifestyle categories. A simple Rosewood artwork piece involves the hard work and adroitness of as many as 4-6 people and takes about 9-15 days to complete.
People love the remarkable craftwork in India and outside, as it tells stories of ancient India to the modern world.
Art Global– Story of Punjabi women woven in bright threads of Phulkari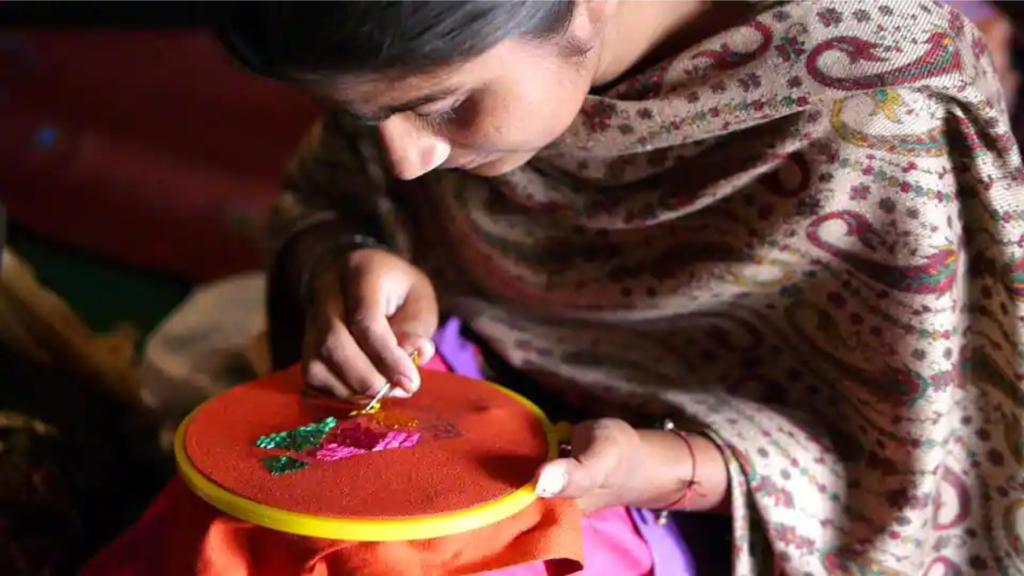 Phulkari or "work of flower" is a type of colorful Indian embroidery that originated in Punjab in the 15th century. Beautifully hand-woven using a needle and a silk thread on a coarse cotton cloth. Punjabi women created both simple and intricate patterns of flowers, geometrical shapes, and motifs, mostly inspired by their life and dreams.
Long before Phulkari was commercialized, Punjabi women used to dress in ethnic wear embellished with Phulkari during special occasions like marriages. Phulkari vividly represents the culture and heritage of Punjab.
Over time, the theme of Phulkari has transitioned from inscriptions of village lives of women. As well as flora, and fauna, to trains, airplanes, and modern lifestyle activities. What has not changed is its antiquity and the art of telling stories via needle and thread. Phulkari has made non-literate Punjabi women independent and capable of earning their bread and butter.
Gradually, Phulkari has found its place in the art global markets of Europe and America. With the change of time, art has evolved itself in terms of designs and color combinations in the world clip art. Today, Phulkari can be seen on home furnishing and décor items in world of art global.
Some famous fashion designers have incorporated Phulkari designs into their western outfit collection, thereby changing the notion that Phulkari can only be worn on an ethnic fabric.
P.S. – https://blog.expobazaar.com/5-unique-handicrafts-from-himachal-pradesh/
– https://blog.expobazaar.com/6-handicrafts-from-jaipur-that-depict-indias-cultural-beauty/
View this post on Instagram