Atmanirbhar Bharat, the term literally translates to 'self-reliant India.' However, the meaning is much deeper than just its literal translation for any Indian artist. It's not just a term used to specify that India is an independent and self-subsistent country; it's a mission, an idea, and a vision.
The 'Make-in-India' initiative which was launched by our Honorable Prime Minister, was launched to encourage the concept of self-reliance in hearts of every citizen of India especially Indian artist. Though the initiative was launched in 2014, its seeds were sown by the Father of the nation Mahatma Gandhi, when he encouraged the use of 'Khadi'- an India curated fabric popularly worn by the Indian diaspora. This initiative was launched to empower Indian artist with technology of creating the fabric in India and create the country's individual identity as a free nation.
Taking inspiration from our age old legacy and the philosophy of 'Make in India' and 'Atmanirbhar Bharat', India Exposition Mart Ltd., which is one of India's frontrunners for hosting major events and fairs such as the IHGF handicrafts trade fair and Auto expo, launched its subsidiary ExpoBazaar. Being a B2B e-commerce platform showcasing India's heritage artisanal and lifestyle products to new and global markets, ExpoBazaar is contributing towards the rapid digitalization of the handicraft market in India.
Uplifting Indian Artist Businesses All Around The World
The Indian land is known worldwide for the exquisiteness in their craftworks and the diversity in its cultures. With dialects changing, and delicacies transitioning every few miles, the nation's cultural diversity is unmatched.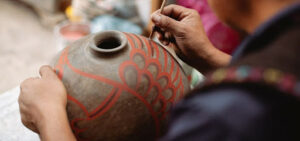 ExpoBazaar, by enabling Indian artist, craftsmen, suppliers, and manufacturers to showcase their hand-curated items to worldwide markets strives to bring this diversity in the eyes of the global markets with a click of the mouse. Interestingly enough, it names the sellers or Indian artist linked with the platform 'seller partner(s)' suggesting the idea that all the sellers exhibiting their products on the digital platforms are its partners in the mission of making India a prominent sourcing marketplace for enterprises worldwide.
Facts
According to an article published on homeaccentstoday.com, up until now, specialty operations in the US have had no way to import these products on the smaller scale and economical basis they needed for their stores and businesses. ExpoBazaar has made substantial investment in product development, sourcing, domestic distribution and cutting-edge technology that gives the e-marketplace single-point access of unprecedented scale to Indian sellers and U.S. business buyers.
It helps Indian artist to make the limited-production home products from India available in smaller numbers and with efficient delivery that better fit independent shop owners and resellers in America. The Indian artist carry the possibility of finally allowing specialty operations to compete with chains when it comes to these specialized products.
Conclusion
With the aforementioned business philosophy, the digital wholesale platform not only is helping its seller partners climb the ladder of success of their businesses, but is also enabling small businesses thrive by providing them with options to source from over 15+ product categories, ranging from eco-friendly merchandise, home décor, handcrafted products, to kitchen and dining, and more.
At the moment, the platform has partnered with Next USA and is set to launch in the US based markets, but has an aim of extending to various international markets and become a worldwide wholesale platform. With likes of the e-commerce platform, suppliers and buyers all over the world will now be able to stand on a single footing to establish a one strong community of encouraging traders globally.
Read in Full – https://www.homeaccentstoday.com/e-commerce/new-digital-platform-connects-retailers-to-handicrafts-in-india/