Fun ways to celebrate Grandparents' Day 2022
In 1978, Marian McQuade honored the elderly members of American society by declaring the first Sunday after Labour Day as National Grandparents Day. On August 3, the office-bearers in the American council pronounced the first Sunday following Labor Day as a national holiday. "To honor grandparents, to give your grandparents an opportunity to show love for their children's children, and to help children become aware of strength, information, and guidance older people can offer." When is Grandparents Day 2022, you must be wondering by now?! It will be celebrated on September 11 to treasure and celebrate the selfless contribution of our elderly to our lives. We would all acknowledge that our grandparents do a labor of love while being the backbone of our family. 

Undeterred rocks of our family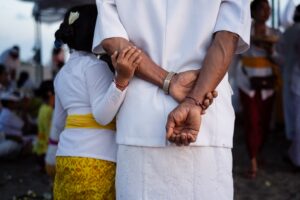 Since our grandparents hold the polar opposite side of the age gamut, we do not have many shared hobbies. We definitely have a mutual, imperishable bond of love and care with them. They play a pivotal role in our lives as they adore us like our parents. They teach us life lessons like teachers, and support us like our closest friends.

We love their warm stare, delicate yet comforting hugs, decades-old traditional recipes, and meaningful and amusing bedtime stories. They tend to be the least judgemental of all. They are always ready to lend us a friendly ear whenever we need one. Above all, they are most supportive of our goals and dreams.

Grandparents Day – Fun activities with grandparents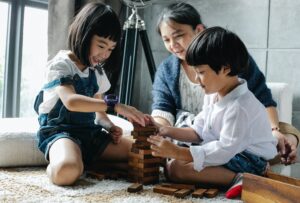 With the growing number of families habituating to living in nuclear setups, more grandchildren are being deprived of their grandparents' unconditional love, time, values, and life experiences. In such a living situation, whenever you visit your grandparents, you can't decipher what adrenaline-pumping activities to participate in with them. Don't worry about it, this National Grandparents Day, we bring you several fun activity ideas and games to enjoy with your Nana and Papa.

What can be more portable and fun than a deck of cards to carry to your grandma's house?! There is a myriad of options available in the market, the popular ones being Rummy, Crazy 8, etc. The game of cards is as old as Wood Block printing technology and even older than your grandparents. It would, for sure, delight them! Crosswords and puzzles are also some of the other games to jog your favorite people's memory. Moreover, you can also take a leisurely stroll in the neighborhood with them. 
Give them gifts they'd love on Grandparents Day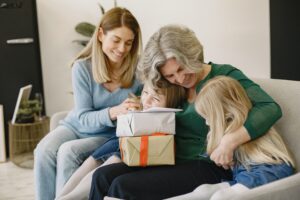 However, it's not needed to be said, your presence itself is a heart-warming present to your grandparents. If you still want to make a statement of knowing them well, you can pick a bamboo-crafted, personalized wooden chopping board for your culinary expert granny dearest. Your grandpa would love a pillow cover that inscribes the names of all your family members.

A potted flower planter is a pick of the bunch for those grandparents who love to work on the well-being of plants. Additionally, helping them grow and prosper. Planting and gardening come with several health benefits for your grandpals too. Furthermore, more time they spend closer to nature, the lower are their stress levels and the more orderly will be their nervous system. You can also help them set up a kitchen garden for their home. 
Have a fun movie night on Grandparents Day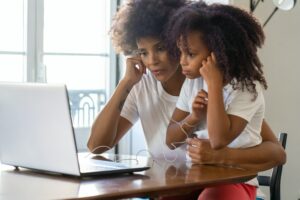 Looking for some economic entertainment with your grandpals? What about picking out an old movie that reminds them of their juvenile days? You can choose something animated like 'The Great Prince of Forest-Bambi' and 'Dolphin Tale' to help expand their boundaries of imagination. You will surely share some memorable laughs and giggles even after the movie ends.

Feel free to traverse across different age groups with timeless favorites like Whale Rider and Willy Wonka & the Chocolate Factory. You can pick eight more movies between the abovementioned thought-provoking story of the Maori tribe and the 1971 American musical by clicking here.
Open a window into the history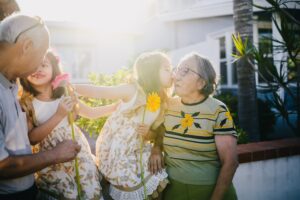 Believe it or not, your grandparents are inundated with stories carved out of real-life occurrences, for they have lived a long, bountiful life. They have all sorts of experiences, ranging from inspiring and heroic to social and spiritual. These stories can teach you who your grandparents are, outside of their blood relations with you. 

Do you have questions in mind you'd like them to answer? Ask. They would happily gratify your curiosities. They would love to tell you who they wanted to become when they were children, who they idealized in their lives and why. What can be a better occasion than National Grandparents Day to know them all and strengthen the emotional proximity between you, your abeulo, and abeula?!
P.S. – https://blog.expobazaar.com/six-simple-ways-to-prepare-your-home-for-a-toddler/