How e-Commerce is Revolutionizing the Textile Industry in India
The roots of revolution
When Mahatma Gandhi decided to boycott British marketplaces as part of his constant and resolute attempts to execute the Swadeshi movement, he was motivated by the goal of instilling a sense of truth, justice, and self-reliance. In 1918, Mahatma Gandhi employed Khadi cloth as a significant component of the Swadeshi Movement, a boycott of foreign goods and supplies. This would assist to bring India out of poverty by establishing local industry and jobs. It would also relieve India of its dependency on expensive imported items from Britain, despite the fact that the raw resources originated in India. Gandhi saw how important it was for the people of India to reclaim what was rightfully theirs, using their own produce and abilities to generate their own prosperity. When Gandhi urged every man and woman to plant and harvest their own materials for the yarn needed to make Khadi fabric, Khadi cloth became the focal point of this strategy. He also requested that everyone, rich or poor, spend time each day spinning Khadi. This national initiative aided in bringing unity via shared labor. People from all walks of life banded together to fulfill Gandhi's request, and their actions aided the country's goal of becoming self-sufficient. Entire villages embraced the initiative, weaving their way to economic independence via fashion.
Since then, many individuals, organizations, and communities around the world have been influenced by his idea, incorporating it into their own spheres. Gandhi has become an icon of peace, inclusion, and sustainability to people all around the world, thanks to his revolutionary mindset that lead India and its people to economic freedom and independence. To this day, the khadi movement lives on in Indian culture and will forever associate fashion with freedom in its purest form.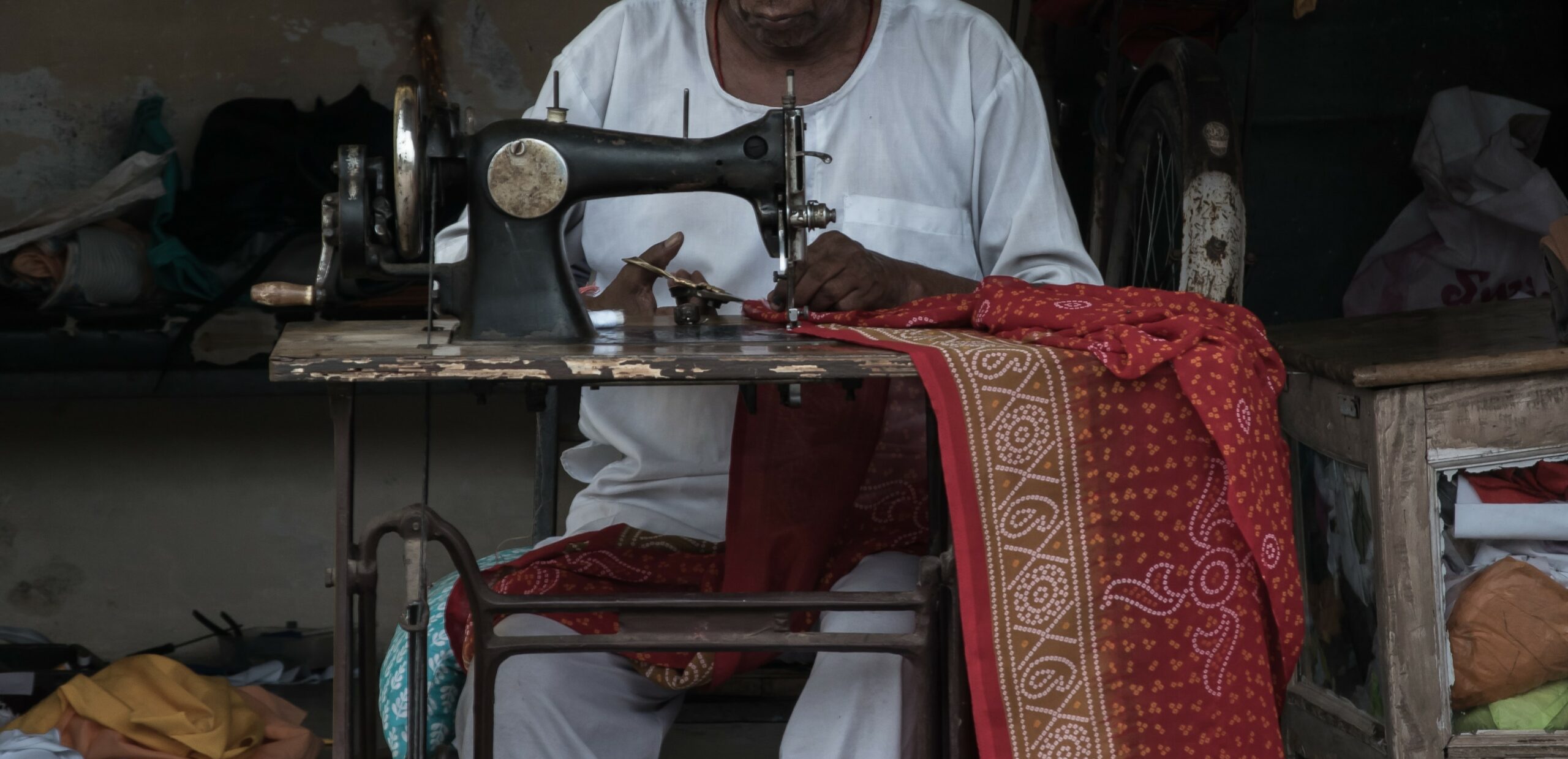 The present
This idea remains relevant in almost every domain, especially when we talk about the revolution of the textile industry in India. The Indian textile industry is booming rapidly owing to the great works of India's talented and skilled artisans. Moreover, education and advancement in technology have made Indians aware of the essential tools that can bring India's magnificent cultural legacy into the eyes of global markets. Numerous global e-platforms such as ExpoBazaar, have come forward to ensure a successful implementation of this goal, by showcasing the country's proudest treasures to the rest of the world. This has not only provided the Indian textile industry with a massive global platform but has also strengthened the communication of India with worldly markets.
With the growth of Omnichannel retail, businesses can reach out to clients at numerous touchpoints, augmenting traditional retail. It's no different in the fabric industry, where there are more options than in traditional storefronts.
As e-commerce grows in popularity, the fashion and lifestyle industries see an increase in demand for materials from millennials in order to create traditional, timeless pieces. Online fabric stores bring top textiles from around the world to the plate in order to meet demand. This offers them an advantage in establishing a foothold in the market.
As the world progresses, old Indian crafts are regaining popularity, and customers are becoming more mindful of, and sensitive to, arts and sustainability. Indian online fabric stores are stepping forward to help the larger good. Precious arts like as Ajrakh, Indigo, Kalamkari, Shibori, Handblock, Tie, and Dye, and others have regained prominence thanks to Indian businesses. Indian fabric firms support craftsmen by giving employment and educating the youth about their ancestors' art styles. Furthermore, this eliminates the issue of availability of these Indian crafts; they are now available to a wider audience.
Furthermore, the Indian government has taken noteworthy measures toward the growth of the Indian textile industry, with the Union Ministry of Textiles being increasingly involved in growing the textile industry through continual collaboration with business owners in this area. The Union Budget for 2022–23 also promised various perks that will aid in the expansion of the Indian textile sector. This has speeded the growth of the industry.
Small businesses around the world that are just starting out in the fashion and apparel industry, are now able to source premium quality merchandise in bulk from many B2B e-commerce platforms, which has further provided Indian textile merchants with favorable means to promote their fabrics to international markets. ExpoBazaar is one such platform contributing to the growth of Indian merchandise around the world. The e-platform enables Indian artisans, manufacturers, suppliers, and exporters to showcase their merchandise under the home, hospitality, and wellness segment to Indian as well as global wholesale markets.
This means that in the coming years the Indian textile industry will have surpassed the largest markets owing to the rapid development of e-commerce in India.
P.S. – 
---
* This disclaimer informs readers that the views, thoughts, and opinions expressed in the text belong solely to the author, and ExpoBazaar does not represent any individual, company, or organization named on this blog. The article is strictly based on information derived from the Internet and is purely written for creative purposes. In case of removal, edition, omission or any other grievances kindly contact –
Mob – +91-9717294708
Email – promotions@expobazaar.com