Indian artforms with 500-year-old tradition behind them
As each day passes, we are drifting away from the roots of our culture in this fast-paced world. However, traditional Indian artforms have been practiced for decades, passed down from one generation to the next. Moreover, these multitudes of art forms have stood shoulder to shoulder with the fast-evolving world, keeping intact their inherent meaning and significance.

Today, you can see these works of art weaved into your headscarf, or embellished in your most coveted piece of jewelry, or combined into your silverware. We bring you three such crafts that have advanced with time, only to become a part of our modern lifestyle.

Indian artforms – Karnataka's Lambani Embroidery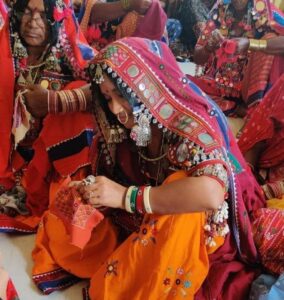 Women donning Lambani embroidered dupattas (https://images.app.goo.gl/7qZHfRUYENuToeNt6)

Beautifully done on Tamil Nadu sourced cotton khadi and power loom fabric, Lambani embroidery is famous for its distinct design, weave pattern, and technique.
Furthermore, Karnataka's Lambani women started a tradition of passing on their culture and beliefs to their daughters in the form of a bridal trousseau. Now, the art is loved and demanded globally.
Today, Lambani is helping earn a dignified living for numerous tribal women. The embroidery also uses forteen different types of stitches on a bright-colored fabric, traditionally, red and blue. What makes Lambani unique is the use of patchwork, motifs, coins, and shells in its design.

World-famous semi-nomadic Indian artforms
With time, the signature embroidery has evolved itself to cater to the demands of the modern-day consumers. The art has also made an entrance in the top markets of America, the Netherlands, and Japan.


Nowadays, people can see Lambani embroidery on everything, from headwraps and bags to bedding articles. Additionally, the intricate designs made with an array of colors make Lambani a must-have in one's closet. The combination of Lambani tribals' nomadic lifestyle, rituals, and culture in the art also gives it a Bohemian vibe. A Lambani embroidered piece takes a painstaking work of approximately 110 hours, making it a highly meticulous art form.
Filigree, an art of intricate metal work
Buddha Mama Filigree hinged cuff. (Source: https://images.app.goo.gl/gEcTqmi6i2u1Nf7S6)
Craftsmen have been using the 500-years-old traditional craft of Orissa, Filigree, to make wearable decorative pieces and utensils. Conventionally made by interweaving lace-like flattened silver wires, the artwork gives immense possibilities to the craftsmen. These complex and intricate handmade pieces never fail to tell stories of the craftsmen.

Light in weight, and elegant in style, the Filigree jewelry pieces have flowers, tendrils, spirals, leaves, and motifs on them. Moreover, one can see silver Filigree work everywhere, from bridal collections to home décor to lifestyle products.
An age-old twist  

Even when the demand for the Filigree jewelry is brimming, there are very few artisans in Cuttak, Odisha, and Andhra Pradesh who make this craft. Additionally, the reason the art is in dire straits is meager earnings in return for months of hard work. Moreover, even a tiny piece of Filigree jewelry takes months of fire and heat to complete.

The art has extensive scope because people from foreign countries like America and Canada have penchant for this ancient Indian jewelry style. Furthermore, famous modern-day jewelers like Buddha Mama and Chopard are also using this age-old technique to serve modern demands.

The Filigree made from Gold and Platinum is in demand and needs a market expansion. If given a chance, Indian Filigree can also expand its presence in the global market, and hand-crafted artisan products can earn significant profits.

Indian artforms – Bidar's metalwork, Bidri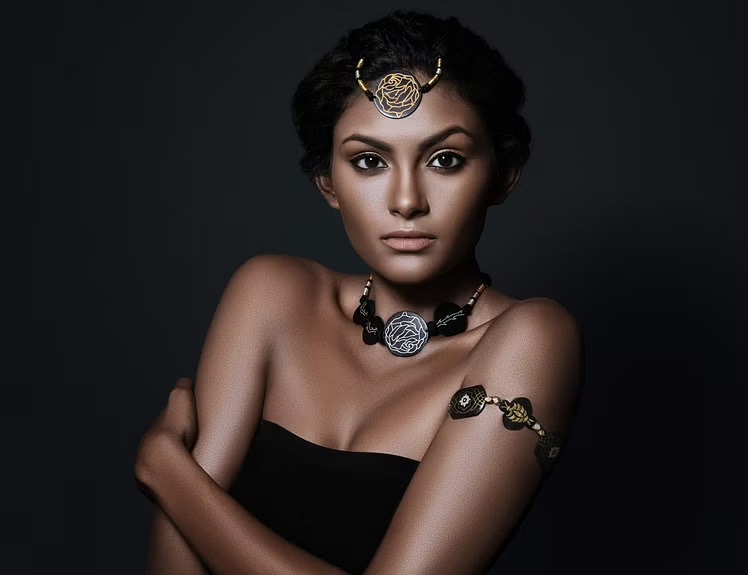 Bidri art incorporated into modern-contemporary jewelry design (Source -https://images.app.goo.gl/9GnDNWtQm3EF1NjQA)


When discussing the unique creativity of the human mind working in unison with the hands, one cannot overlook the renowned Bidri craft. Craftsmen in various Indian states such as Karnataka, Telangana, Bihar, Uttar Pradesh, and also West Bengal have been beautifully crafting this art for about 500 years.
The technique is an exquisite combination of the local artisans' ideas and knowledge with Turkish, Persian, and Arabic art. Today, handicrafts made in India using Bidri have alsoearned their rightful place in the world of art. Crafting a single piece of Bidri craft is an intricate and time-consuming process, involving the inlay or overlay of metals such as Silver, Brass, and Gold into an alloy of Copper and Zinc.

Indian artforms – A Sense of Cohesion in Contrast

The craftspeople involved in the art also produce some stunning artefacts using an elaborate process which starts with molding of alloy and completes with oxidizing the end-product using soil and aluminum chloride. Furthermore, the most common patterns formed on a Bidri ware are 'teenpatti ki booti,' 'ashrafi ki booti,' 'kairi,' and 'mahi-pusht.' The eye-catching work of Silver and Gold against the darker hues is a treat to the senses, mind, and body.

The various items crafted using Bidri are a part of our Home décor, Kitchen and Dining and lifestyle. One piece of the craft takes up to 20 days to complete, thereby making it a highly detailed work.
ExpoBazaar is a subsidiary of India Expo Mart Limited (IEML). IEML is known for hosting Asia's largest Indian Handicrafts and Gifts Fair (IHGF) and others like India International Hospitality Expo (IHE) and  ELECRAMA.
P.S. – https://blog.expobazaar.com/indias-regional-artwork-makes-its-well-deserved-place-in-the-global-art-world/